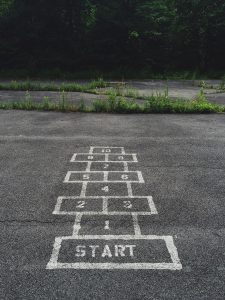 Photo by Jon Tyson on Unsplash
Ready, and START!  I would like to be grade free by 2022! Perhaps this is lofty and unrealistic; but, I think it's worth a shot!
Can I accomplish this in all of my courses?  This I am unsure of, after all I teach Grade 12 students who are university bound.  However, I do know that I am sick of grades and the impact that a number can have on a student.  I want students to be focused on the feedback and how to grow and further develop their skills as opposed to being focused on the number.  Inspired by this weeks reading, I have decided to finally start on a project that I have been considering for some time  ("Journey On" blog post).  So the purpose for this post is for it to be a working post that is continually added to as I learn and experiment.  I would like to use this post to dig through the how to's of a different type of assessment. This includes determining what I want the assessment to look like as well as how to best build and manage this within my online courses. I am going to set this up as a series of steps that I write out and add to/ reflect on throughout the process.
The Plan
Step #1:
Determine why I want to do this.
How does this meet best practices and what do I want this to look like? As part of this goal, I am going to review some of the connected literature, beginning with the readings mentioned in the Creating Online Learning Experiences chapter that we looked at this week.  Another excellent reference from this week that I would like to look at in more detail, but will not be including within this post is listed below.
Reference
Blomgren, C. (2017). Current Trends and Perspectives in the K-12 Canadian Blended and Online Classroom. In N. Ostashewski, J. Howell, & M. Cleveland-Innes (Eds.), Optimizing K-12 Education through Online and Blended Learning. Information Science Reference. 10.4018/978-1-5225-0507-5 https://www.researchgate.net/publication/330059504_Current_Trends_and_Perspectives_in_the_K-12_Canadian_Blended_and_Online_Classroom_Concepts_Methodologies_Tools_and_Applications
Step #2:
Determine what features are already built into Moodle that can help me to meet this goal.
While I have looked at this briefly, there are options to create assessments of student work using scales like complete/incomplete or outstanding, very good, competent etc,  I will need to spend some more time looking into this further as well as trying it out in a course and with the students. I also know that within Moodle there are teacher options for grade viewing where the teacher can set up the grade book viewing so that students do not see any numerically calculated final grades.
Step #3:
Determine the classes to start with, or the assignments to start with.
I think that if I start with Grade 8, I can continue to build each year. Or, I may start with both Grade 8 and 9.  Because I teach English, I believe that the use of rubrics without a grade along with some of the previously mentioned scales will work well.  My plan is to try to build these into both courses, one assignment at a time.  I also would like to consider my Gr 10-12 online only students. What can I change or build within these courses?
Step#4:
Determine how to develop this in other classes.
Once the Grade 8 and 9 classes have been established, I can potentially add on a course or two the following year. When I consider the grade 12 student needs, perhaps I can do a combination of no grade rubrics and grade rubrics, self assessment and teacher led assessment.  The hope would be that if they started without grades in grade 8,  by the time they arrive in grade 12, they would have a really strong understanding of how to self assess, and how to understand how they are doing without a number assessment.  It's doubtful that Universities will change the grade requirement anytime soon, so I will need to anticipate that this will still be in play for a number of years.
Putting the Plan into Play
Step #1: Literature
The book chapter by Crosslin, M. (2018), Creating Online Learning Experiences discusses many aspects of effective online teaching, including a section on assessment.  While Crosslin does not explicitly state their opinion on grading versus ungrading, Crosslin does provide a brief overview of assessment strategies along with a few connected resources. These resources are examined below.
Ditching grades may also create a more effective experience for both my blended and online classes as, according to Crosslin (2018), effective online practices include some of the following:
"Spending time and resources to create a high quality learning experience (Lorenzo & Moore, 2002; Hayes, 2015; as cited in Crosslin, M, 2018, Section 1)".

The time spent on changing what the assessment looks like may help to create a higher quality learning experience.

"Creating lessons that focus more on active engagement and less on passive content consumption (Lorenzo & Moore, 2002; Hayes, 2015; as cited in Crosslin, M, 2018, Section 1)".

Changing the assessment structure so that students are more actively involved in the assessment may create more active engagement within the course.

[Including] "Well written goals/objectives/competencies accompanied by content and activities that align well with them (Dick, Carey, & Carey, 2001; as cited in Crosslin, M, 2018, Section 1)".

Spending time with the students to to discuss, create, build and review assessments and ensuing that the content and activities are purposeful and connected may create this experience for the learner.

"Instructors that participate in the social media outlets and discussion forums (Mathieson & Leafman, 2014; Zheng, Han, Rosson, & Carroll, 2016; as cited in Crosslin, M, 2018, Section 1)".

One thought I had connected to assessment was to use the forums to build understanding and to explore assessment. I can take this further by also participating in the forums; thereby working towards a new kind of assessment while also creating further teacher presence within the course.
Step #3: A beginning 
Week #1 
While I had originally planned to start with the Grade 8 class, this week I started by having my Grade 9 students do a self-assessment in class on a written assignment they had completed. We first went over the rubric in class and then, while they were working, I spoke with each student about where they thought their work fell on the rubric and why, and then was able to elaborate on some of the rubric pieces and their writing. They were then given the opportunity to revise and add to their work and then re-submit. I'm hoping that the time spent on the rubric will help going forward as we begin to use the rubrics versus the grade as the focus for feedback on their work. I found that students as a whole were quite accurate with their self-assessments. One interesting finding was that some of the students struggled with evaluating conventions within their writing with one student commenting, "I'm not sure, but I'm sure I have a few errors". I wonder how many students struggle with this? And, I wonder how to help students self-assess for conventions. Perhaps a more direct checklist would help rather than the ambiguous wording within the rubric of "a couple of errors" or "5 or more errors" etc.  The article by Stommel ( 2017) also has me thinking about my use of rubrics. Perhaps I will try out a few types of assessment, as, like many things I have discovered over my years of teaching, there is never just one perfect way; every student and every class and every activity/assignment objective is different.
Week #2
This week, I really focused on what needed to be included within an effective paragraph. As a class we worked through:
What a paragraph looks like.
What the at home reading shared. This was set up in the style of a flipped classroom, as they did the work ahead of time through Moodle so that we could spend the class time learning from and with each other (students worked in pairs to come up with ideas, then shared as a whole class).
How to take these ideas from the reading and structure them within a paragraph.
Creating a paragraph (in groups).
Using the rubric (discussed the week prior) to both help guide and evaluate the paragraph (also in groups. There were no marks attached to this assignment)
One other addition that I included this week was pre- planned time to sit with a student to go over a piece of previously submitted work with them.  I was able to create time to evaluate a piece of writing with a student and to give them on the spot feedback.   Again, there were no marks attached and the student was asked to use the feedback to revise and re-submit their work. Due to little class time with students, I am wondering how I can create this same experience for students through Moodle. I can submit feedback files to students online, but often wonder if this is the most effective, as I have no way of knowing how many of them read and use the feedback that is given to them.
Final Thoughts and A Few More Wonderings
I would like to try out some of the ideas mentioned by Kohn ( 2017) and Stommel (2017) in connection with bringing the students into the process throughout and I wonder about the best way to do this. One on one meetings in class can be challenging with the number of students and limits on class time but perhaps there are other ways to do this. Maybe students could have the option to meet during class time, at the end of the school day or online. I would love to create one-on-one meetings with students online, but wonder about the challenges connected to this. I wonder how many students would actually show up for meetings on their own time outside of the classroom. I also wonder about the feasibility of this due to the limited time I have outside of the classroom. In connection to Kohn 's (2017) comments connected to the building of the curriculum, I wonder if the best way to do this would be to start small and scaffold the students through this process.  One idea I would like to try is a brainstorming activity where the students come up with some ideas about what they would like to learn.  Another idea might be to begin with the " what I want to work on " responses that the Grade 8 and 9 students gave at the beginning of the semester. Perhaps a combination of these two would provide a good starting point.
In connection to my previous thoughts on the use of forums, I wonder about the use of forums as a place for self and peer reflection to help students to continue to build the language and understanding of the rubrics outside of the blended class time. Forums might also be a good place to generate and discuss ideas other ideas around assessment and curriculum and they may provide the additional benefit of community building. I am also wondering about recording audio feedback or video feedback for assignments; and, I am wondering about meeting students online in connection to assessment, particularly with the students I do not see face-to-face. I am also wondering about how assessment is often done in courses like MOOC's and/or other online courses. What other technology could be utilized to enhance teacher feedback and assessment?
When I think about online learning and the positive impact of teacher presence and timely feedback (Crosslin, 2018),  I wonder if assessments completed without grades and rather as a progression of learning will create a "less is more" scenario that will help to further build teacher presence as well as allow for more timely feedback on assignments.
What a world it would be if students learnt out of curiosity; if students were able to maintain the joy of learning they have as small children into adulthood.  How many more creative ideas may come to be and where might this lead? If changing assessment can lead to deeper learning, to more curiosity, to more risk taking and, to more creativity, we may not only be changing how students view school and themselves,  we may also be equipping them with the skills they will need to be successful as adults in a knowledge based society.
References
Bali, M. (2018, March 20). Ungrading my class-reflections on a second iteration. [Blog post].  Retrieved from https://www.chronicle.com/blogs/profhacker/ungrading-my-class-reflections-on-a-second-iteration/65235
Crosslin, M. (2018). Effective Practices. In M. Crosslin (Ed.), Creating Online Learning Experiences. Mavs Open Press. https://uta.pressbooks.pub/onlinelearning/chapter/chapter-5-effective-practices/
Heick, T. (2019, November 29). 12 alternatives to letter grades in education. [Blog post]. Retrieved from https://www.teachthought.com/pedagogy/12-alternatives-to-letter-grades-in-education/
Kohn, A. (2017, May 11). What's the problem with grades? [Blog post]. Retrieved from http://blogs.ibo.org/blog/2017/05/11/whats-the-problem-with-grades/.
Stommel, J. (2017, October 26). Why I don't grade [Blog post]. Retrieved from https://www.jessestommel.com/why-i-dont-grade/
Stommel, J ( 2019, March 19). Jesse Stommel- How to upgrade-Digital pedagogy lab Toronto. [Video]. Retrieved from https://www.youtube.com/watch?v=vUY5TRTDdwM
Tyson, Jon. (2018). Retrieved from https://unsplash.com/photos/r9T0LZv8xWQ