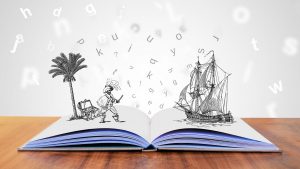 As an English teacher, I am passionate about story telling and include stories and story telling within the classes I teach.  When it comes to digital storytelling, I have used a variety of different tools with my students ranging from online storyboards to the creation and sharing of stories in an auditory manner.  We have looked at, and created podcasts, Ted talks and, have used tools like iMovie, and photostory.  As we are discussing digital storytelling in class this week, I thought this would be the perfect opportunity to start to review some of the resources given and perhaps find some new ones, all in the hopes of using some new tools and designs with my students.
The following resource has some ideas connected to podcasting: that I would like to explore further.
I am also interested in trying out a screenplay with my students as I haven't approached story telling from this angle and I believe there would be a high level of interest and engagement with this.  I have had students plan out sections of a screenplay, but have not included the actual videoing and editing to create a finished product. This might be a great project to complete in a cross circular manner with an ADST class/ Tech class.
I'm excited about trying to integrate some of these new ideas into my classes after Spring Break!
I tried out one new tool this week called PIXTON